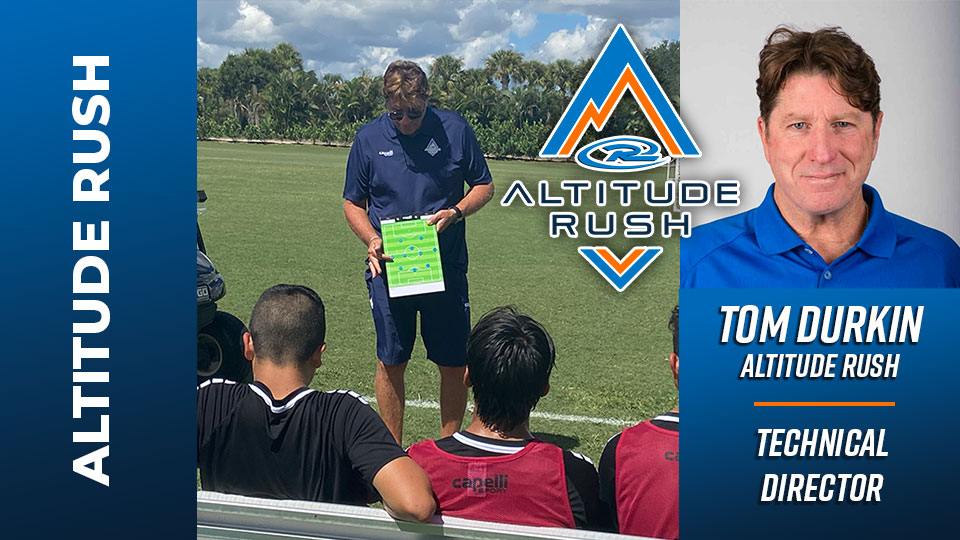 Developmental Heaven
Altitude Rush coach Thomas Durkin dishes on the benefits of the new program.
As Rush Soccer endeavors to create more pathways for players to achieve their goals on the pitch, the new partnership between Rush and Altitude Academies is poised to serve players like never before in the club's history.
Thomas Durkin, who's been coaching at academy, collegiate, and professional levels for 40 years, will be leading the Altitude Rush residency academy program.
Durkin coached at world-renowned IMG Academies for 15 years when Greg Breunich working in tandem with owner Mark McCormack, turned a tennis school into one of the world's premier athletic residency academies. Breunich, who has since assumed the reins at Altitude, convinced Durkin to join him.
"I'm back because I'm excited about this project," Durkin said. "We're a full-time residency program and we're just trying to accelerate the development of players through increasing the number of training sessions that they do and adding important ancillary services like speed, agility, quickness, strength, conditioning training, and mental conditioning on a weekly basis. And then we're launching a few more platforms this year for biometrics and match analysis. So we're pretty excited and very much excited to move forward with Rush."
Durkin, who coached collegiately at Rutgers among other places as well as a professional women's team, finds developing young players very satisfying.
"I've enjoyed every realm that I've coached on every level, but the exciting thing about this is the day-to-day and being able to see the growth and development of an athlete," Durkin said. "Our goal is to keep an athlete for five years, basically from eighth grade through twelfth grade, and now with Rush with hopes of launching a USL team into USL One or the USL Championship league, we can move those players on to professional soccer."
Durkin also likes the environment that's being created at Altitude, one that's he experienced during his early days at IMG.
"In Florida when you hit October, early November, the weather is absolutely perfect," Durkin said. "And when it's the ideal time of day, I would just tingle because I felt like I was in Europe or South America. And with the help of Rush, I think we can build that culture again here at this academy."
The Altitude Rush residency program runs ten months each year through the traditional fall and spring academic semester calendar. In line with Rush's development philosophy, student-athletes will get between 60 and 70 games each year. But there will be other opportunities as well for shorter experiences for players to get some intense training or just a taste of what academy life would be like. Altitude Rush will offer summer camps that last three weeks at a time as well as short-time campers, who can attend the academy for two weeks at a time during their school breaks.
Durkin is a firm believer that putting players in such an environment will lead to future success.
"You're in an atmosphere here with like-minded people who are trying to succeed and get further ahead," Durkin said. "And then when you pair that with all the resources and the ancillary services we have here, you're able to develop a plan that suits the player."
The attention to detail and the ability to coach at such a granular level is something Durkin sees as the key to speeding up a player's development.
"We do a lot with movement in our warm-up everyday—speed, agility, quickness—and when the players master the movement, their soccer training takes off dramatically," Durkin said. "For example, in our soccer training, if we're doing a topic on defending, we would probably start with multi-directional speed and we'll use that as a platform and show how that relates to what you're going to do. Now drop step and turn in closing down and getting into a set position.
"And with a really good feedback loop and video analysis and filming games and being able to isolate on the individual, it puts the player in a near-impossible situation to fail. It puts them in a position to succeed and that's what we want."
To learn more about Altitude Rush, visit Altitude Rush Boarding Academy