Unlike Anything Else
Rush Fest
Are You Ready?
Rush Fest 2023
Full payments are due June 1st, 2023
On and Off Site Options
Hotel?
The Rush Fest will be held at the All-Inclusive Sandpiper Resort in Port St. Lucie, Fl.  There is limited accommodation at the resort so if you would like to stay at the resort, please book early.
Altitude Academy, Sandpiper All-Inclusive Resort
On-Site Resort
As well as the full-service family vacation experience, you can also stay active with a gym, golf course, tennis courts, basketball and volleyball courts, and water activities like jet skiing. Indulge in all-inclusive food and drinks, unwind in the adults-only outdoor infinity pool and spa, and keep connected with free WiFi and a business center. You'll also find a children's splash pad, Kids' Club, family pool, paid parking, laundry service, 24/7 front desk, and concierge.
Sandpiper Bay Resort all-inclusive rates.
Sand Piper Bay Rates are base on Single, Double, Triple and Quad Occupancy all-inclusive. Children 0-3 are free.
Rate per person/per room per night. Single Room $170 (1 adult) Double Room $340 (2 people, not including children 0-3).
Should you have any questions or concerns please call 772-398-5100 and press 1 for reservations or email.
BOOK VIA EMAIL
Provided by Pellucid Travel
Off-Site Hotels
If you are looking to stay off-site in a more traditional hotel, we have many other hotels in the area that are all within 15 minutes of the resort. Off-Site Hotels provided by Pellucid Travel.
Book Now for Off-Site Hotels
Welcome To
Port St. Lucie, Florida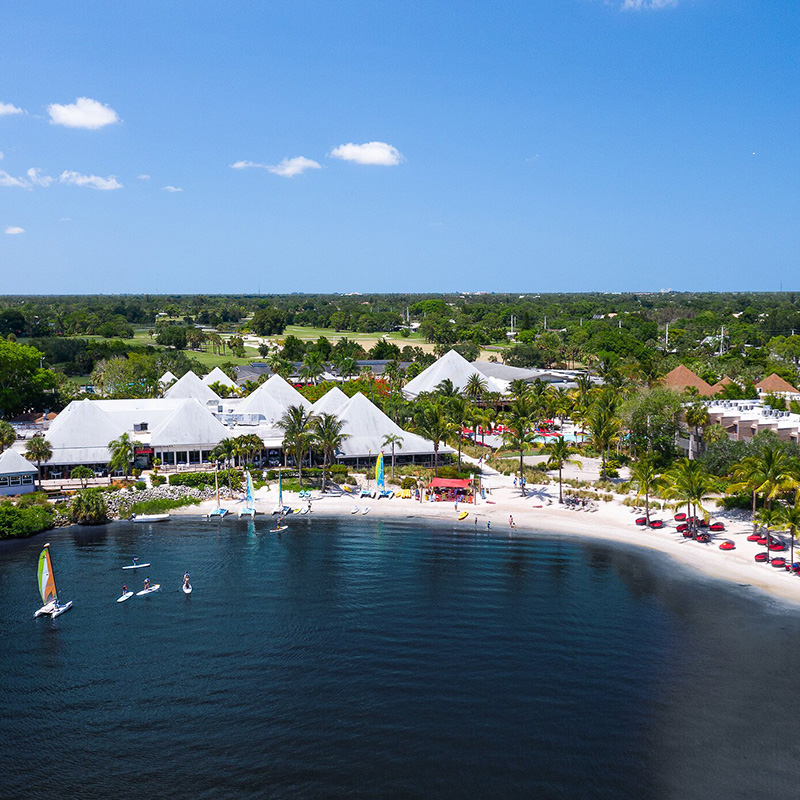 Imagine a place where warm waters meet perfect waves. Where white sand beaches set the backdrop for every type of aquatic adventure under the sun. Where outdoor wonders still feel natural and untouched. Good news: in Martin County, you don't have to imagine!
Martin County serves up beaches and pristine parks, nestled along the most bio-diverse lagoon ecosystem in the Northern hemisphere (the St.Lucie Inlet). All within two hours or less driving time of four international airports: Palm Beach, Ft. Lauderdale, Miami, and Orlando. Florida's true hidden gem, this is a place for unwinding and
reconnecting.
In Martin County, you'll find every kind of activity, from high-end shopping and one-of-a-kind museums to rustic rodeos, epic adventures, and family-friendly attractions. This is a place for escaping and making memories that last far longer than tan lines.
Things to do (but not limited to!):
River Cruises
Wakeboarding
Water Biking Adventures
Hiking
Surfing
Scuba Diving
Check Out More Activities!
Rush Fest is an annual event held in mid-July that brings together U12 boys' and girls' teams and players from Rush clubs across the country and around the world. Rush Fest marks the transition from 9v9 to full-sided 11v11 games. The inaugural Rush Fest took place in 2008 with 12 teams, today over 48 teams are in attendance each year.
The week-long festival of soccer joins competitive games, training sessions, classrooms sessions, and a host of social events in one of the most unique soccer events anywhere in the country.  Teams compete against one another in morning games that are bracketed for similar abilities and afternoon training, including keeper-specific training, and classroom sessions run by top coaches from within the Rush family working with the players and team coaches.
The event has both an opening and closing ceremony that is often the highlight of the week as players get to hang out, dance, and sing Rush songs with players from across the Rush nation and fuse life-long friendships.   We do not forget the adults either with a high-level coaching clinic for all coaches in attendance and a world-class parent education session.
The event is designed to give the players the most fun soccer experience of their life, with education, games, and memories they will never forget.
Rush Fest for Coaches
Coaching
Coaching Education
The Rush Fest will give coaches the opportunity to learn first-hand about the Rush Way. Each day we will see coaches engage in an active learning environment. Coaches will be challenged to take part in a number of tasks including teaching players the Rush Way to warm up and defend corners. A coaching education clinic will also be held during the week. We look forward to supporting coaches on their journey in better serving players.
Coaching Pairing
To afford all the players at the event the best experience possible we ask that the head coaches (or assigned coaches) of each team assist another team within the event.
Why do we do this?
Rush aims to give all players the best experience possible. Assistant coaches can add knowledge, enthusiasm, and a unique opportunity for players to experience working with a coach from a different Rush club.
Pairing coaches will allow for the development of relationships, sharing of knowledge and ideas between coaches. As well as the opportunity for head coaches to develop staff management skills, assigning staff to specific roles and responsibilities.
It is an expectation that all staff actively engage in games, whether acting as the head or assistant coach. Assistant coaches are also expected to lead the team training session that will be held during Fest. This allows the players to hear a different coaching voice, maybe a different style and allow some coaching education for the team coach also.
Introductions
We ask that each coach contacts the coach listed as your partner to introduce yourself and give any relevant information about your team you feel necessary.  On the first night of the coaches meeting (immediately following the Opening Ceremony) we will have a chance to get together and meet before the morning games.
Resources
Something for Everyone
Fest Developmental
This is well suited to players who are interested in enhancing their technical skills. while participating in fun games and developmentally appropriate activities with professional coaching staff. Developmentally appropriate and challenging activities are applied around specific daily themes like dribbling, passing and receiving, shooting and finishing, first touch.  Players will be empowered to make their own decisions and solve their own problems in a positive learning environment.   The goal is to maximize fun by maximizing their touches on the ball.
Please Contact Us
Interested in Volunteering?
Would you or your child like to volunteer at Rush Fest? Register for our volunteer list to see how YOU can help be a part of us behind the scenes!
Volunteers can help with a variety of tasks during the event, like field setup, coaching in the Thunder or Developmental camps, or even helping at Movie Night! We could use some helping hands anxious to be more involved. Register as a volunteer, and we will coordinate with you/your family prior to the event.
Thanks, and again, we appreciate your help!!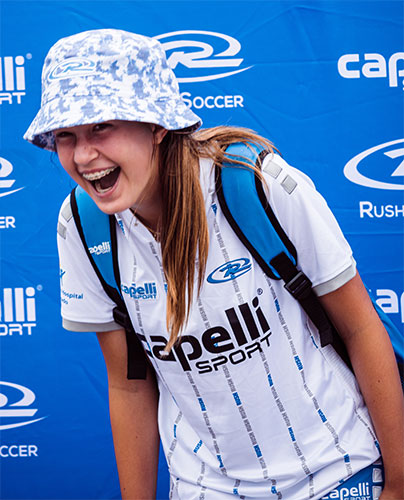 General Inquiries
Frequently Asked Questions
Who Can Register?
Rush Fest is for 2011 Boys & Girls Rush teams, regardless of where you reside. Physically filling out registration should be done by a coach or team manager (or parent, if you are only registering an individual.) We will have all levels of play, from DA teams to lower level and everything in between.
Do I Have To Bring My Whole Team?
Every 2011 is welcome! While we encourage full teams to attend so that you get to experience traveling with your entire team, it is not a requirement. We still encourage players to sign up as individuals or partial teams!
Can I Register As An Individual?
Yes – if you are able to attend but you are from a state without a specific 2011 team, or there are not enough players to make the journey as a team, we have the option to register as an individual, and Rush Soccer will place you on a team for the week.
Do I Have to Stay In A Specific Hotel?
Yes, Rush Fest is a "stay-to-play" event and you will reserve your block of rooms through Rush Travel. Rush Soccer has secured hotels for the Rush Fest which will host the classroom facilities, opening ceremonies, and facilities for team and staff meetings. Team Managers will receive booking links once registration is approved.
How Can Parents Book Hotels For The Same Rate And Location?
Parents can book their hotels via the same link as players and coaches; however, we ask that you are courteous with your room block – space is limited, and we want as many teams/players as possible to have their choice of hotel.
When Should I Book My Arrival And Departure Dates?
The opening Ceremony will commence at 6pm on Sunday, July 9, and the last games will conclude by 2:00 pm on Friday, July 14. Florida has so much to offer in the summertime, we recommend you stay a few extra days to have some fun!
Okay, I Registered - Now What?
You should receive an email detailing your registration submission. You will receive a Google Doc to fill out pertinent information regarding your team and will receive emails from Adam to collect payment, rosters, etc.
Are Meals Provided?
Yes, if you stay at the Sandpiper Resort Hotel at Altitude Academy, otherwise, some offsite hotels may provide breakfast. It is recommended $35-$40 per day is sent with your children to cover meal expenses.
Are Parents Encouraged To Attend?
Absolutely, this is a Rush-wide festival and we believe the parents should attend to experience the Rush Way in full effect too. We are asking the players to stay together in rooms with chaperones and coaches and not stay in the same room as their parents. This is likely the first time that the players are traveling and staying together as a team and we want to make sure that we give them the responsibility but under the supervision of their chaperones. Learning the Rush Way to travel is a part of this event!
What Is Expected Of A Rush Chaperone?
Rush chaperones are volunteers and without them, this event wouldn't be possible. Generally, chaperones are responsible, soccer-loving, and able to pass a background check. Specifically for this event, a chaperone must be punctual, tireless and attentive. Typically a chaperone at the Rush Fest is responsible for driving the team to and from the fields, arranging all meals, sorting travel items, etc. Contact us if you need guidance.
What Is The ``Gift Exchange``?
One of the big events we plan is a "kids only" (not strictly) social event in which players socialize amongst each other and exchange Rush gifts from their local club. It is a blast! We recommend you bring an item per child, but by all means bring more – the more a player starts with, the more they can trade for with other clubs! Your item can be anything customized to your local Rush club. (ie Colorado Rush t-shirts, Alaska Rush hat, etc.)
Do We Have To Bring Our Own Equipment?
Coaches are responsible for bringing their own cones and pennies and we recommend the players each bring a size 5 ball. With over 60 teams anticipated we are unable to provide equipment for all teams, unfortunately.
Meet the
Rush Fest Coordinators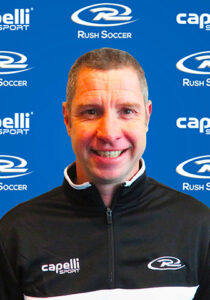 Rush Fest Coordinator
Nik Penn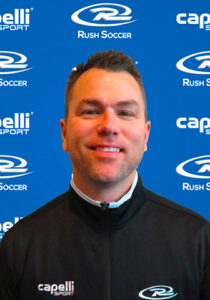 Opening & Closing Ceremonies
Josh Tyler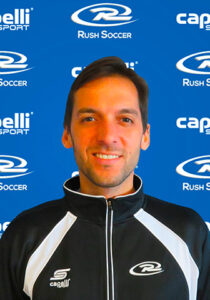 Rush Development & Education
Pablo Toledo