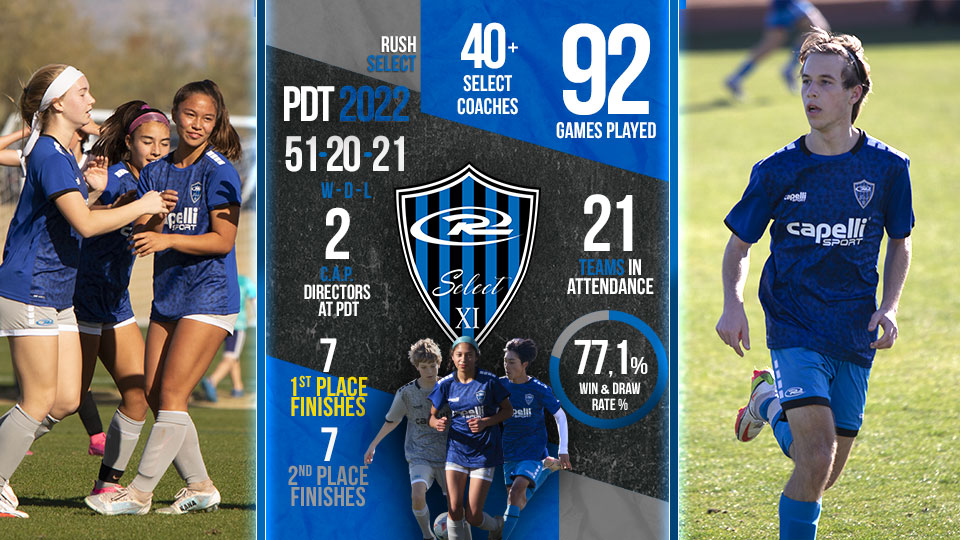 Rush Select Performance at PDT 2022
Rush Select has officially finished its domestic campaign for the 2021/22 cycle. Recently the National Teams of Rush Select attended the Presidents Day Tournament in Phoenix Arizona, one of the best showcase events in the country. The program attended with 21 teams, 330 players, and over 40 coaches from across Rush Nation. "PDT is such a great event," said Select Director Justin Miller. "The weather, the facilities, the exposure to college coaches, there are only positives to take from the experience."
The teams and players in attendance made the Rush proud with their performances on the field. 92 games were played, 51 Wins, 20 Ties, 21 Losses ending with seven 1st place finishes, and seven 2nd place finishes! Additionally, our teams played against top competitors and dominated.
There were MLS Next, GA, & ECNL teams in many brackets, and we won a meaningful amount of games against them. With teams in these "top" leagues we played 28 games, Won 13, Tied 8, and Loss 7. "There is no program in the country like Rush Select," said Director Miller.
Our ability to form top teams with players who have never met before is unparalleled. The exposure we give our high school age players to college coaches is unmatched. Our dedication to the success of the individual player is unique. This program is truthfully special."
Rush Nation would like to congratulate all of the winners at PDT and all of the players that were selected for the event.