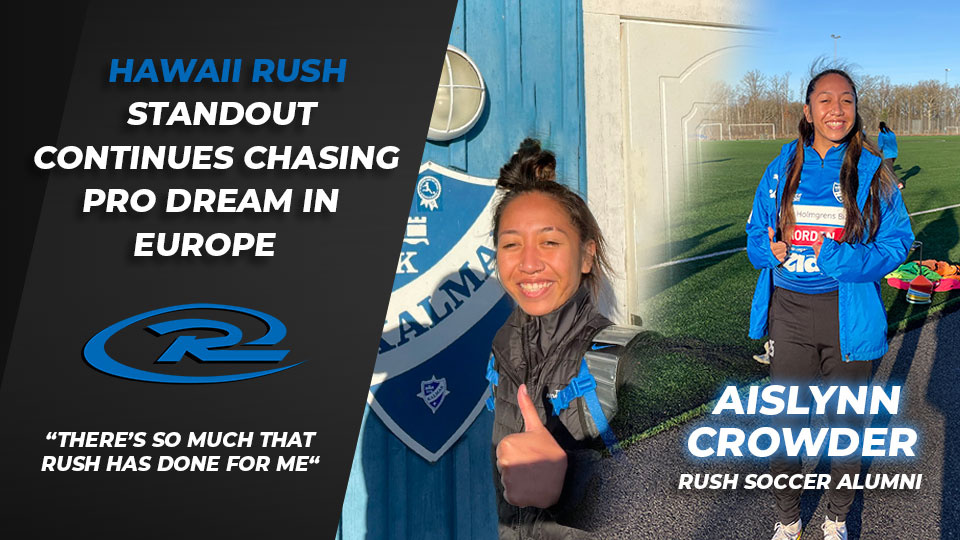 Determined Dream Pursuit
Hawaii Rush standout Aislynn Crowder continues chasing Pro dream in Europe
Growing up in Hawaii, Aislynn Crowder had aspirations of playing professional soccer—she just wasn't sure how far she could go. Now, she's on the verge of reaching one of her biggest goals.
"When you live in Hawaii, you don't get as many opportunities as other players," she said. "I was hesitant to think I could continue playing at a higher level."
Until she started getting recruited to play for major colleges.
"When coaches started talking to me, I started to think that maybe I could play in college and play professionally," said Aislynn, who played club soccer for Hawaii Rush.
However, after playing her freshman season at UCLA, a delayed one due to the pandemic, in the spring of 2021, she was certain of what she wanted to do, just not the way she wanted to do it.
"I decided to just take a step back after my freshman year because I came to the realization that college—not just UCLA where I had good coaches and teammates, but college in general—just wasn't for me," she said. "So I decided to start pursuing professional soccer because it was something that I wanted to pursue for myself right now."
In mid-January, Aislynn's journey toward signing a professional contract just two years removed from high school took a big step forward when she had the opportunity to try out with several European clubs.
"When I was thinking about leaving school, I called my club coaches back in Hawaii," Aislynn said. "I told them I wasn't sure if I could do this any more, and they were like, 'It's okay. You're fine.' So just to hear that was encouraging for me. And then they all started working to help me take the next step."
Working in conjunction with her former coaches and Rush CEO Tim Schultz, who she trained with when she was younger, Aislynn landed a few opportunities to show off her skills in hopes of landing a contract.
She spent a week training with Sweden's IFK Kalmar club before training with GPSO 92 Issy in France. After that, she retreated further south to Valencia, Spain to train with Valencia FC in a climate that she's found much more agreeable to her Hawaii roots.
"Every time we trained in Sweden, I had to be bundled up," she said. "They don't care how cold it is there, they just go out and play. But Valencia feels a little more like the weather I'm used to back home."
But Aislynn isn't picky as she sets her sights on achieving a long-time dream, grateful for the way Rush has not only helped her get this opportunity but prepared her for it as well.
"There's so much that Rush has done for me," Aislynn said. "I think the coaches and the teams where we had such good chemistry, that was all helpful in my development. But they prepared me a lot for not just soccer itself, but for life too. I think the best thing about them is how my Rush coaches are like second parents to me. They helped me get through some hard times in my life. And I think they prepared me super well mentally and physically for life."
While getting a professional contract is a big goal for her, there's still a bigger one looming out there—representing her country on the women's national team.
Aislynn, who has been consistently called up to USWNT camps since 2017, hasn't let go of that dream either. And with a crop of fresh faces replacing long-time fixtures on the roster for the USWNT's upcoming SheBelieves tournament, she found renewed hope in that dream.
"I was kind of shocked when I first found out about the roster changes," she said. "But it was also really inspiring for me. It made me want to work harder. If the national team is giving younger players a chance to make it on the big stage, that pushes me and motivates me to work even harder."