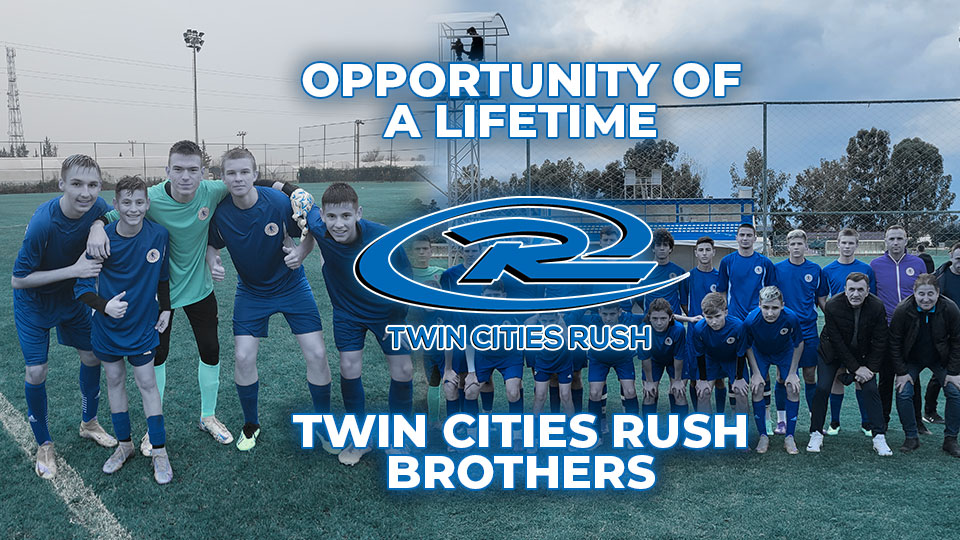 Opportunity of a Lifetime
Twin Cities Rush brothers look to make most of the audition in Germany 
When Semir Secic fled to the United States in 2001 as a refugee from Bosnia on the heels of the Bosnian War, he knew exciting opportunities awaited him. And now his two sons are taking full advantage of burgeoning opportunities as well.
Secic's two sons, Semir ('07) and Damir ('08), will travel to Germany in March for 10 days of training and games at Milbertshofen Academy with an opportunity to earn a spot with prestigious European youth academies. The two Twin Cities Rush players played at a camp in Turkey in January where they caught the eye of youth academy scouts and earned an expenses-paid invitation for another look in Germany.
Scouts from Milbertshofen will evaluate the players, as well as coaches from Munchen 1860, Augsburg, Malmö FF, and Turkish club Antalyaspor.  
"These coaches came back to watch us after our first game at this camp," Damir said. "Then they contacted our parents and told us what could happen on this trip."
"We are very blessed," Semir said. "Without our dad, we wouldn't even be playing soccer. Our parents brought us here and helped us get these opportunities. And we're very thankful for them."
Semir and Damir started playing for Twin Cities Rush last fall and have noticed a difference in how the club approaches player development.
"At Rush, the competitiveness is on a different level," said Damir, who also made the Rush Select team. "It's super challenging and the training is intense."
"Rush gave us a chance to go to the next level and get more trainings," Semir said.
Having a brother who is equally determined also helps as the two boys push each other while training on their own.
"We get into fights, a hundred percent," Damir said as he chuckled. "When we train together, we'll get mad at each other for something—maybe he thought the tackle was clean and I thought it was a foul."
With a bright future ahead, both boys are working hard in pursuit of their dream.
"We would both love to play professionally," Semir said. "That's our main goal right now. We'd love to play for our national team. If we can make that happen, obviously that'd mean a lot to us and our family."
Both players understand what it takes to excel to the highest level.
"When you watch pro players, you see how hard they work," Damir said. "So, I know I have to work harder than everyone else. For example, if I see someone doing ten push-ups, I don't just think I have to do ten push-ups too. I think I need to do ten push-ups before they do."