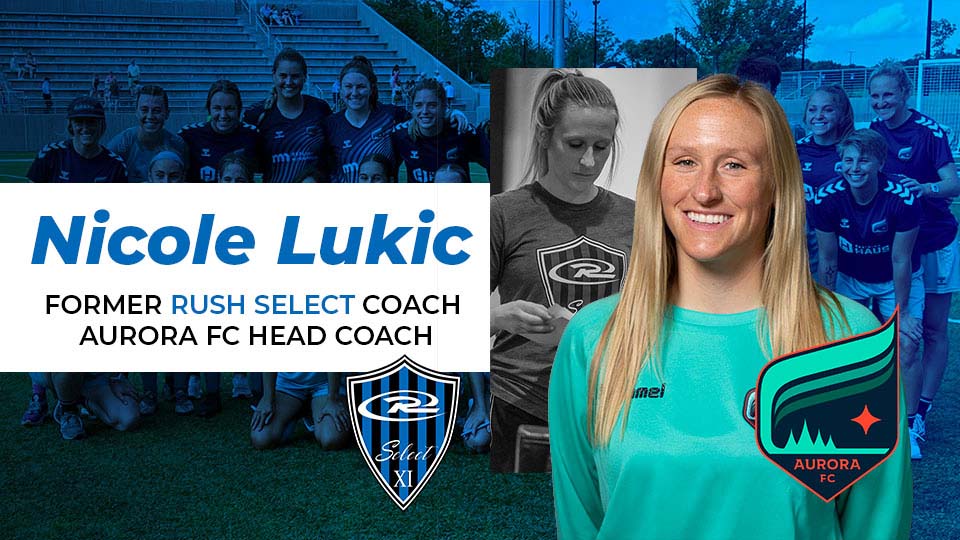 Rush coach Nicole Lukic has Minnesota Aurora FC on cusp of USL W title
Nicole Lukic never played for a Rush soccer club while growing up, but she has a firm grasp of what the Rush way is all about—and now she's imparting that knowledge to the next generation of players.
Lukic, who currently serves as the director of operations at Twin Cities Rush, was tapped to coach the Minnesota Aurora FC team in the inaugural season of the USL W, a women's pre-professional league associated with the USL. On Saturday, Minnesota Aurora FC will host South Georgia Tormenta FC in the league final.
And as Lukic, who starred collegiately at the University of Wisconsin-Milwaukee, has become a rising star in her own right in the soccer coaching community, she credits her experience with Rush as one of the major factors in helping her develop her coaching skills.
"I started at Rush Wisconsin West as a director of a club with really no director experience at all," said Lukic, who was named the USYS Midwest competitive boys coach of the year in 2021. "My biggest experience was coaching club teams so that was a significant jump for me. I honestly feel like because I was connected to Rush, I was able to be successful. Immediately I was thrown into this pool of other directors from all across the country who were very knowledgeable, very skilled, very experienced that I could reach out to and get good resources or good feedback and advice from. I was part of the Rush mentorship program when that started, and I was lucky to be paired with a lot of experienced people in that program."
Lukic continued to hone her coaching skills in the Rush Select program.
"With Rush Select, I was immediately thrown into a pool of much higher-level coaches than myself and being able to learn from them. So I would say definitely that being in the Rush network has definitely grown my skills and has given me resources that I probably wouldn't have had with another club."
Lukic also took advantage of the Rush system to help build her roster for the Minnesota Aurora FC, inviting the Rapp triplets—Cat, Rami, Eli—and Shelby Hopeau, all former Rush players she coached in the Select program. The continuity from being developed in a similar system has paid dividends on the field in acclimating to a new team, too.
"This has definitely been a good experience for me knowing that I have people from the same club, same experiences as me, growing up throughout the club developing just as much as I was and having like the same soccer experience and same style of play," said Shelby Hopeau, a midfielder who played for Hawaii Rush.
Hopeau was also joined by Colorado Rush's Rapp triplets—Catherine, Rami, and Elizabeth—at Minnesota Aurora FC this summer.
"Getting to interact with all these different coaches who are mostly on the same page about how they want to develop players has been very good," said Catherine Rapp, who signed with Florida International.
"I feel like it's a great step for us going into college," said Elizabeth Rapp, an Oklahoma signee. "The level is really high and practice is really intense. It's just a great way to continue developing. I had goals like what I wanted to do when I came here, I wanted to get better as a player and I feel like after this, I can definitely say that I will be a much better player."
"We love playing for Nicole," said Rami Rapp, who's joining her sister at Oklahoma this fall. "We played for her a few years back (with Rush Select) and it's been great getting to play for her again. I like this league a lot because it's really competitive and we have to travel around and play some good teams and people who are also in college. And I think that it's a good experience for us and Just think the league is good for women's soccer."
Lukic believes the new USL W-League has an opportunity to open up new pathways for players to progress in the development on the field, just like it has for her off the field.
"A lot of female soccer players don't see coaching as a realistic option for them, probably because they do not see a lot of female coaches," Lukic said. "There's been plenty of times where I've questioned myself like, what am I doing? As I continue to get older, I see less and less older female coaches too. And I do think that can be a barrier for female athletes to see themselves as a coach.
"But for me, I was very lucky to be surrounded by a lot of supportive men who were welcoming to female coaches, which I think is also an equally important topic that doesn't often get discussed. I feel really fortunate to have great male role models that have helped me grow as a coach and have given me advice and have had the courage to give me critical feedback."
While the future is bright for women's soccer in the U.S., Lukic also hopes that gives rise to more women coaching in the future as well.
"I think first and foremost we need good coaches to stay around and coaches who are in it for the right reason," Lukic said. "But I would love to see more female coaches. And right now, I work with an all-female staff at Minnesota Aurora, which is something I've never had the opportunity to do, and it's really different—and it's a lot of fun, to be honest."