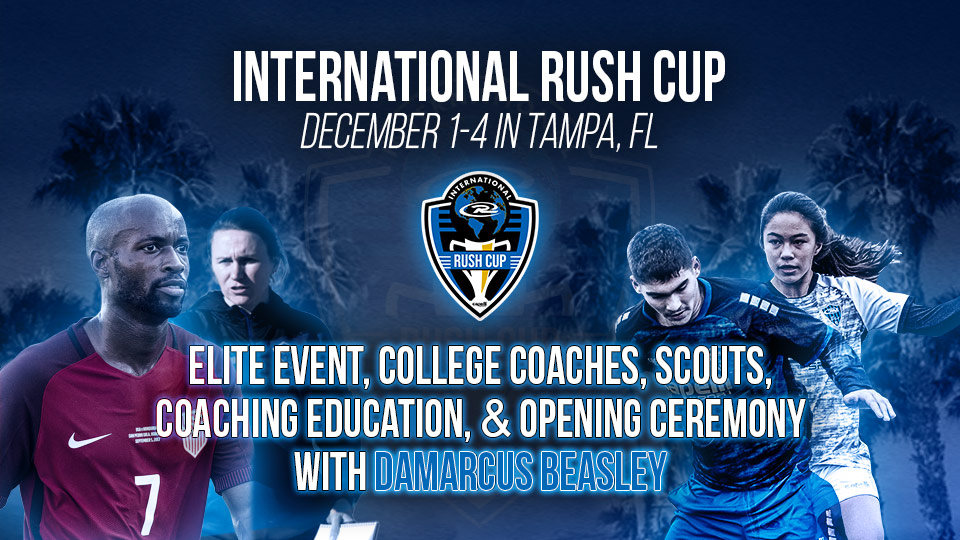 Inaugural International Rush Cup Set for December 2022
As Rush continues to expand its global footprint, one of the most exciting results of such growth is the inaugural International Rush Cup, scheduled for December 1-4, 2022, in the Tampa, Florida area.
International Rush Cup (IRC), the club's most elite event, will pit both domestic and international clubs against each other in a top-tier tournament that will attract college coaches and scouts. Rush Select teams will also be present for the event, showcasing some of the club's rising young stars.
"Long term we want this to be the World Cup of sorts for all Rush teams across the globe," Rush COO Justin Miller said. "We want to create an unparalleled location for college coaches and professional scouts to see the top talent within the Rush. This is why we have centered the event around our Select teams. We are excited for this inaugural event and to watch it grow from here."
Along with college coaches, scouts from professional and semi-professional teams Flatirons Rush, Vfl Wolfsburg, Minnesota United FC, HB Koge, Aurora FC, Colorado Rush, Bluffton Rush of the WPSL, Cedar Rush Stars, Medricher SV 02 Duisburg, and Virginia Beach United will be in attendance.
IRC will also feature a three-day coaching education workshop for all Rush coaches led by Pablo Toledo, Rush Soccer's Sporting Project Director, and the club's top technical staff. This hands-on workshop will provide coaches at any level with tools to sharpen their training sessions and help better develop players.
Attending players will also have the opportunity to participate in a college recruitment class led by Rush's College Advisory directors.

To register or learn more about IRC, visit https://rushtournaments.com/international-rush-cup/