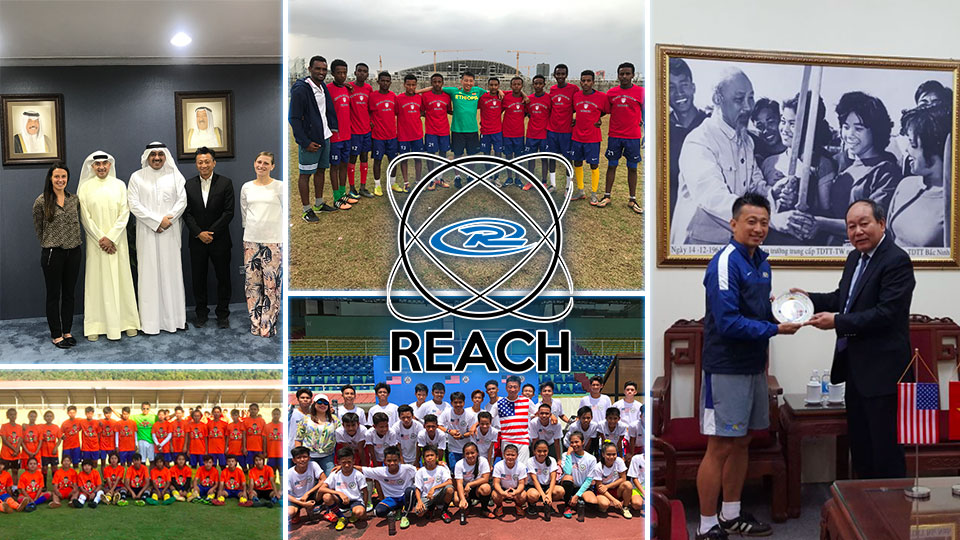 New REACH Coordinator – Welcome John Collins
Rush's new REACH director Johnny Collins bringing fresh ideas to vital club program
It's hard to imagine anyone understanding the importance of soccer outreach more than Coach Johnny Collins. He's traveled the world for over two decades coaching soccer in various cultures sharing his passion for the game and love for people.
It's also hard to imagine anyone getting a more difficult start on life than Coach Johnny either.
Coach Johnny, who was recently named Rush's new Outreach Coordinator and will be overseeing the R.E.A.C.H. program, was born in South Korea and moments later left to die in a trash can before he was rescued and eventually adopted by an American family.
While growing up in the United States, he developed into a good soccer player, playing at a Division 1 school before losing his scholarship his junior year after a compound fracture to his ankle. Realizing that his playing days were over, he embarked on a journey to do what he considered the next best thing to playing—coaching.
Coach Johnny moved overseas and spent the next 24 years coaching in almost every imaginable climate among almost every imaginable group of players. He coached in Korea, Papua New Guinea, Japan, Kenya, China, Malaysia, Kuwait, Singapore, Australia and Indonesia, to name a few. He's coached players on U.S. military bases, Somalian refugees, homeless kids in the Philippines, and orphans in Vietnam. He even once organized a girls soccer tournament in Kuwait during Ramadan.
Over the past six years, he's worked with the U.S. State Department as part of its Sports Envoy team. And this summer he's going to Kyrgyzstan to help coach there as well.
Last month Coach Johnny started working with the Altitude Rush soccer program in Florida, living in the U.S. for the first time since he left college to pursue his coaching dream overseas. And while his journey has been anything but conventional, he's embraced the twists and turns of his journey that often has him wondering where he'll end up next.
"Life is an adventure, right?" Coach Johnny said with a wry grin.
But if there's one thing that Coach Johnny has seen during his travels, it's how soccer is a universal language that connects people of all ages from vastly different cultures. He's also seen the need for good uniforms and equipment.
"The Rush R.E.A.C.H. program as it is has been important so players who don't have access to nice uniforms and equipment can get what they need," Coach Johnny said. "But there's also so much more we can tap into as an organization by helping with all kinds of needs, not only abroad but also in our own communities.
"We're not going to lose the focus of getting equipment and uniforms to players who need it, but I'm excited about some of the changes that will make REACH a much more robust program and spur players on to become even better citizens in their own communities.
"For example, it'd be great if a bunch of Rush players went out and picked up trash along the highway or cleaned up around their rivers. We have a great opportunity here to be known for more than just soccer."
To learn more about Rush's R.E.A.C.H. program, visit the website here.