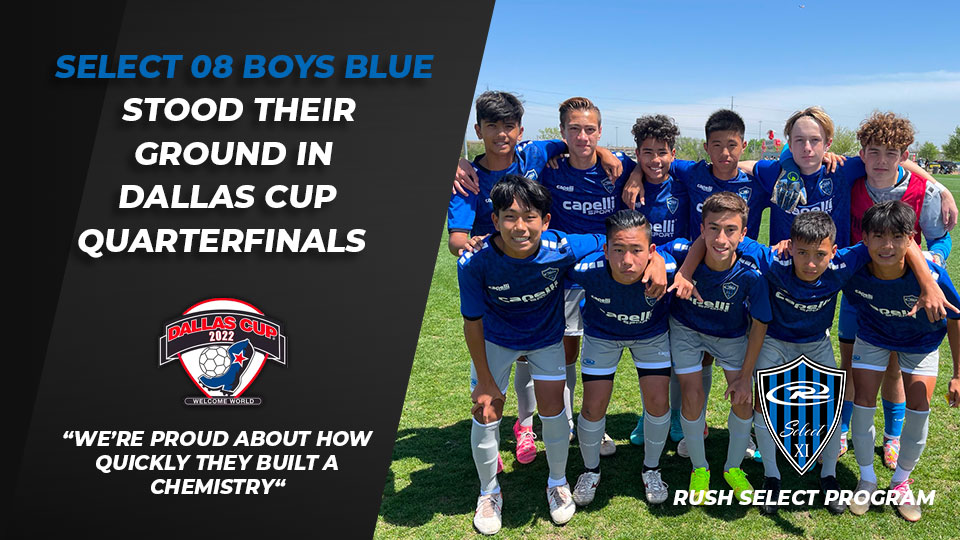 Select 08 Boys Blue – Dallas Cup Recap
The 08 Boys Blue team took part in the Dallas Cup this past week. Overall it was a very successful event for the boys. They started in group play facing off again the Houston Dynamo academy. The boys executed a very good press scoring 4 goals and winning 4-1.
The next day the team was up against DKSC. This was a tough opponent that had big strong physical players and unfortunately, the boys gave up an early goal and could not find the net after that losing 1-0.
The last game of group play was against Concorde Fire. They had yet to win a game in the group but were a very well-organized team and had some solid attacking players. The boys were motivated to score and win as 1st place and a spot in the quarterfinals was still in reach. The first half saw two nice crosses from the right that lead to two very good header goals and another goal to seal it in the second half.
We turned our attention to the other game in the group where a Houston win over DKSC would see us go through. Thankfully Dynamo pulled out a 1-0 victory which allowed us to advance to play Dallas Texans in the quarterfinals. This was a hard-fought game with both teams not giving up much. Unfortunately, the Texans found a small chance with 10 minutes left in the game and scored. The boys battled to the end but could not come up with an answer.
Overall the coaching staff was proud of the fight in the group and how quickly they jelled as a team. The Select program staff is looking forward to what this group can do in the future.