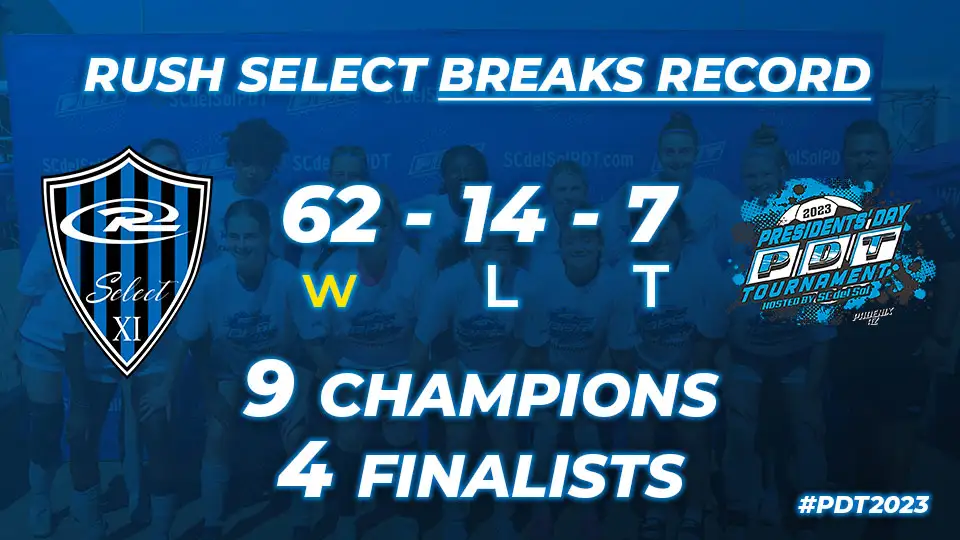 Rush Select Makes History at PDT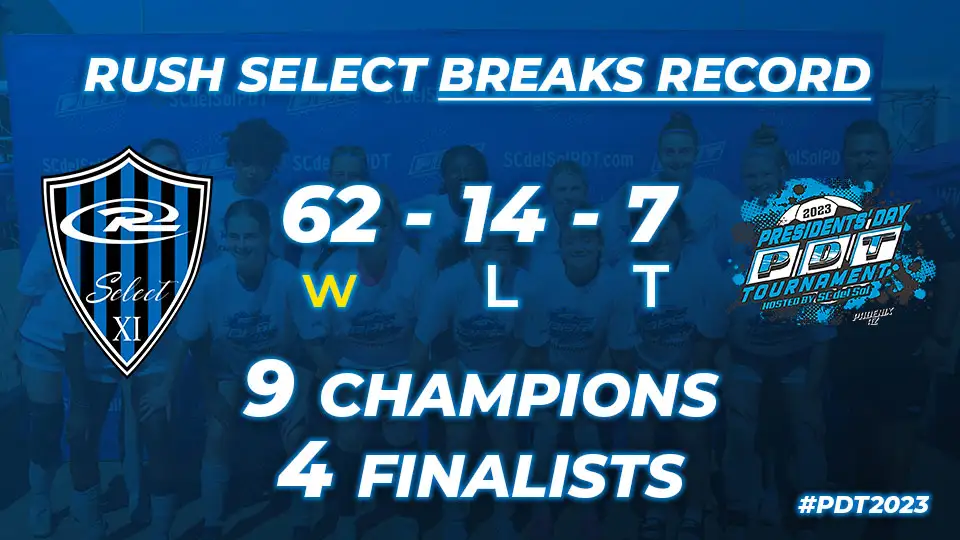 Recently Rush Select formed national teams to compete at PDT to showcase their talents in front of college coaches as well as represent the Rush at the highest level.
The Rush Select teams, consisting of elite players from across the globe, competed in various age groups and emerged victorious with an impressive 9 championships. This remarkable achievement is a testament to the dedication and hard work of the players, coaches, and staff involved in the program.
Championship-winning teams were:

2010 Boys Rush Select Blue
2009 Boys Rush Select Blue
2009 Boys Rush Select White
2009 Girls Rush Select Blue
2009 Girls Rush Select White
2008 Girls Rush Select Blue
2007 Boys Rush Select White
2006 Boys Rush Select Blue
2006 Girls Rush Select White
The President's Day Tournament is one of the largest and most prestigious youth soccer tournaments in the United States, attracting teams from all over the country. The Rush Select program had its most successful record in its 12-year history with 62 wins, only 14 losses, and 7 ties. Rush Soccer's Global Sporting Director Raoul Voss said, "The groups this year looked very strong. We made a very big statement across the country that our Rush Select teams are some of the best out there. It really was an impressive weekend." This notable record created the highest win and draw percentage in program history at 83%. The Rush faced tough competition in every game, but their skill, strategy, and teamwork helped them secure victory after victory.
The Rush Select program is renowned for its commitment to developing young players and providing them with opportunities to showcase their talent on a national and international stage. The success of the Rush Select teams in the President's Day Tournament is a testament to the effectiveness of this approach, as well as the skill and dedication of the players and staff involved. With such impressive results, it is clear that the Rush Select program will continue to be a force to be reckoned with in youth soccer for years to come. Congratulations to all of the players that were selected for the event and kudos on making history for the program. 
Overall, the program had a 62 – 14 – 7 (W – L – D) record.