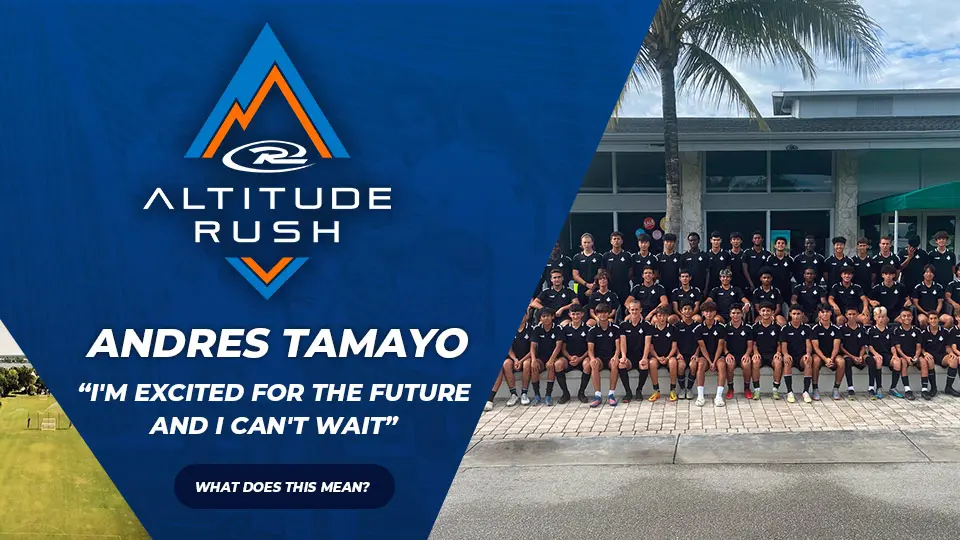 Dreaming Big at Altitude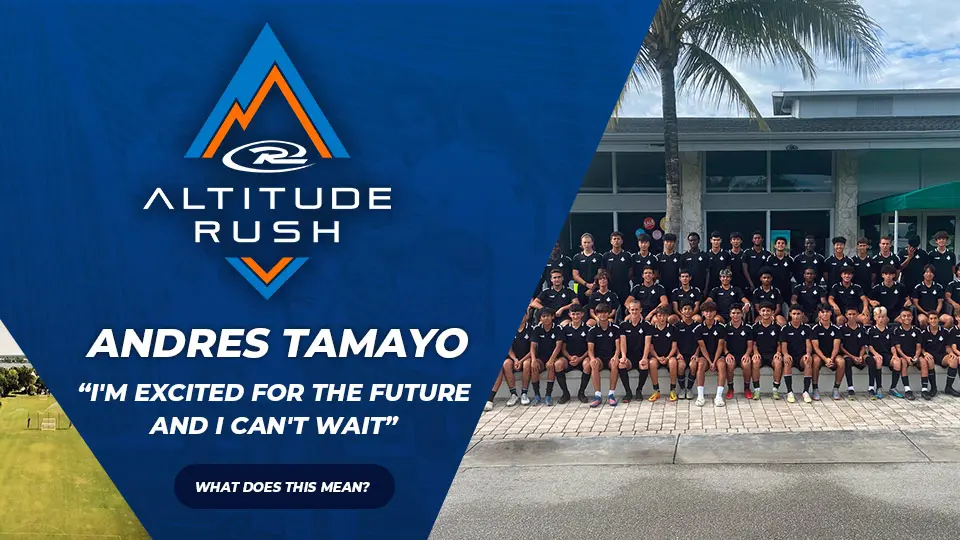 Kanas Rush striker Andres Tamayo enjoying the opportunity, to work at Altitude Rush
Andres Tamayo treated his trip from Wichita to play in Chicago at a Rush Select Center just like any other event he'd ever played in—just another chance to play the game he's passionate about.
But that event was the moment the Rush Kansas 07 player found himself on the verge of embarking on a new journey—one that has guided him to the Altitude Rush Academy in Florida where he's even more determined to achieve his goal of playing professionally.
"After (Rush CEO) Justin Miller saw me playing in Chicago, he talked to Raoul Voss about checking me out in St. Louis," Tamayo recalled. "And that's where they all saw me play. They wanted to watch me play one more time and went to watch me at a tournament in Phoenix … so they brought me down here to check this place out—and I'm glad they did."
Tamayo, an 07 striker and attacking midfielder who started at the Rush club in Wichita at the age of 8, has high aspirations for his soccer career. Now he's got a facility to match at the Altitude Rush program in Port St. Lucie, Florida.
"When I got here, it was a little difficult, being so far away from my family," Tamayo said. "But I knew it was a great opportunity and I needed to take it. So, I prepared myself for that and eventually I got used to it."
Not that it took him long. The complete immersion in academics and soccer at the boarding school program was something Tamayo craved.
"We're training every day, sometimes on weekends as well," Tamayo said. "And then games every week, if not, every other week. … The coaches here are top-class, always demanding the best from their players.
"The physical trainers are amazing, the teachers are great as well. … So my days are pretty busy, always training and school, but there are a lot of players out there who don't get the luxury of training every single day. And for me to be able to train twice a day, every day? It's out of this world. It's amazing."
Tamayo has found the structure has fostered a more disciplined approach to the game.
"Definitely discipline and hard work," Tamayo said in regard to what he's learned while at the academy. "Those two things come into play a lot. You could have all the time in the world, but if you don't want to push yourself, you're not going to get any better. You know these coaches, they're always pushing you. And I can tell that they're doing a good job because I'm getting a lot better."
Tamayo had the chance to bond with his new teammates this fall over watching the 2022 World Cup.
"We were able to watch the World Cup games," Tamayo said. "We would get together as a team and watch them. It was some great moments and a great environment."
So far, Tamayo's favorite moment was when his coaches at the academy invited him to play with the program's top team and see what he could do.
"We were halfway through our fall season and I don't know where I got a call from coach Tom and he told me to get ready because I was going to be playing with the gold team that weekend. And I was like, 'Wow, I'm 15 playing with these 18-, 19 year-olds.' I feel like I'm definitely doing something right and I just need to keep going and with as much time left that I have, I can definitely do something with it."
But Tamayo is excited to see what that will be.
"I would like to see where this leads and where the academy takes me," Tamayo said. "I'm excited for the future and I can't wait."