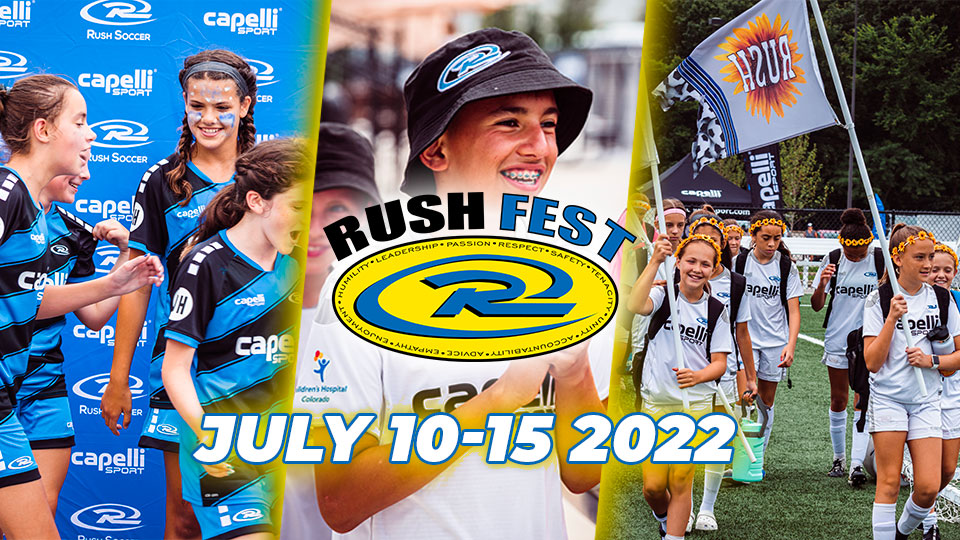 Rush Fest 2022 – A Party Like No Other!
A Party Like No Other
Rush Fest 2022 returns to Colorado, to be more game-centric
After holding Rush Fest in St. Louis last year, the signature event that introduces players to the 11-a-side level of the game returns to Colorado with some exciting new changes.
Foremost among the new wrinkles for Rush Fest 2022 will be the addition of new games, according to Rush Fest director Nik Penn.
"We're going to make Rush Fest more game centric," Penn said. "In the past, we've played one game each day along with one training session and a classroom session. But this year, we're going to have more soccer."
The new format will forego the training session and replace it with two 40-minute games. 
"It's about the same amount of soccer but now you can have more games, and as a coach and technical director you get more halftimes, more pre-games and more after-game talks with the kids," Penn said. "It's the first time they play 11v11, so this is a very valuable opportunity for clubs."
After Sunday night's opening ceremonies packed with music, quizzes, giveaways, and a Rush orientation, teams will play two games each day on Monday, Tuesday, and Thursday. Wednesday is an off day with fun activities, while Friday wraps up the week-long event with games in the morning.
"This is where players get the chance to really see what we mean when we talk about the Rush way," Penn said. "They'll get a great environment to play plenty of soccer but also learn what it means to be a Rush player."
The event held July 10-15 will also include coach education, a parent's night, and closing ceremonies along with some social gatherings.
Rush Fest is open to 2010 boys and girls teams. However, partial teams and individuals can also participate as well.
To learn more about Rush Fest 2022, visit the website here.