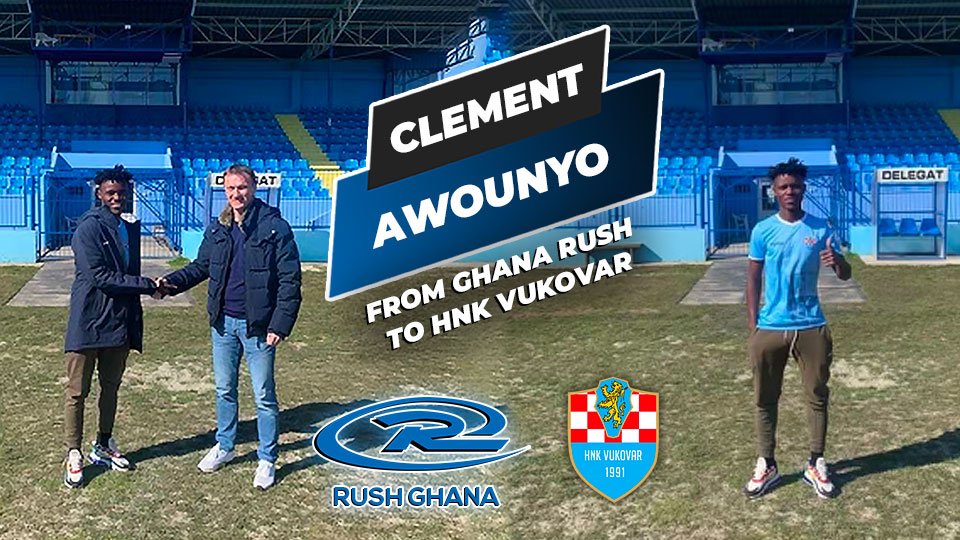 From Ghana to Croatia
New HNK Vukovar transfer from Ghana won't stop smiling.
Clement Awounyo can't stop smiling. Not even after trading the warm Ghanian winter for the frigid temperatures in Croatia. After all, everything is sunny in Awounyo's world right now.
The 23-year-old striker playing for the Ghana Rush club Kotoku Royals FC transferred earlier this month to Rush partner club HNK Vukovar in Croatia and is hoping to help his new club earn a promotion to the second division.
"It's been a long journey," Awounyo said. "Being from Ghana, it's not easy to get noticed. We have talent, but not much opportunity to travel and show other coaches what we can do. But now I have my chance."
A group of Rush scouts saw Awounyo play on a recent visit to the Ghana Rush club and recommended him to the HNK Vukovar club. And the match seemed to be a beneficial one for both Awounyo and the team.
"When some of the Rush coaches came here to see me play, I was excited," Awounyo said. "And now I'm here because of them. I have the people from Rush to thank for giving me this opportunity."
Just the opportunity to get on the pitch at a professional club in Europe is a big step for Awounyo to reach his ultimate goal—playing professionally for a big club in Europe.
And for Awounyo, it's a big step in his ultimate goal of playing for a top-tier team in Europe.
"My dream is to become a big professional player," Awounyo said. "I want to become the best African football player."
Awounyo, who also plays on Ghana's U-23 national team, sees the chance to improve his skills and his visibility.
"I started playing soccer when I was about five years old," Awounyo said. "My father bought me a ball and threw it on the ground and told me to play. I didn't go to school much in my village, so it was always ball. Ever since then, I've always dreamed of becoming a professional player. And now that dream is starting to come true."
When Awounyo arrived in Vukovar in early March, he traded average temperatures that hovered around 90 degrees Fahrenheit for a place where the average high was 47 degrees. But the cooler temperatures have no chance to dampen his spirit.
"In Croatia, the weather is too cold for me, but I'm getting used to it," Awounyo said. "I'm still learning too, but I'm feeling everything is good and everything is better. And I'm still happy."
Awounyo hopes to crack the starting lineup soon and help his new club earn a promotion.
"I'm looking forward for the chance to help my team," Awounyo said.
When he gets on the pitch, there's little doubt that he'll do just that.