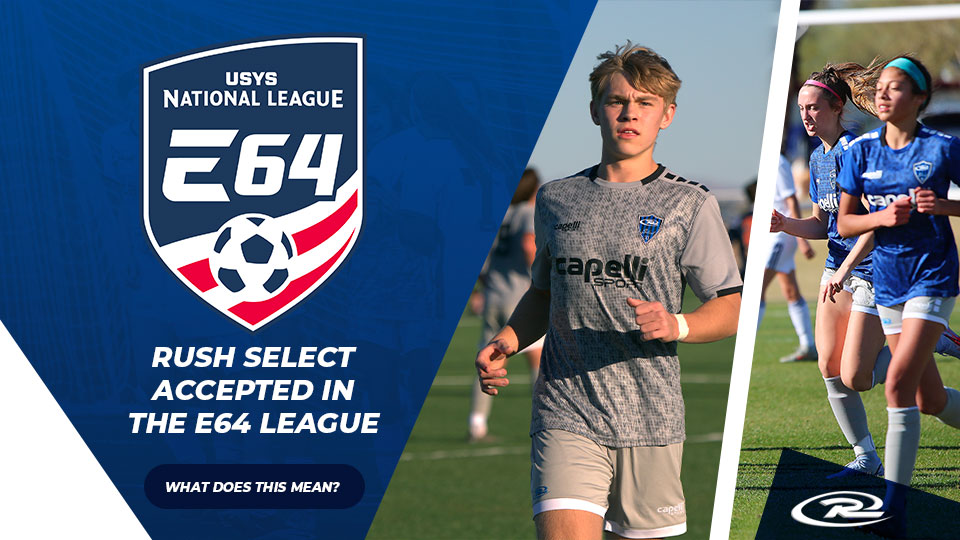 New Opportunities Abound for Rush Select Players
Entry into USYS's E64 League will provide more exposure for players in a high-stakes environment
Even as spring seasons are wrapping up across the country, Rush Soccer's Select program is poised to make its fall program even more competitive after getting accepted into USYS's new E64 league.
Michael Ritch, one of Rush Soccer's National Technical Directors, explained how Rush's entrance into the E64 will present more opportunities for higher levels of competition for Rush Select players across the country.
"This opportunity provides us the ability to kind of group together and really show what we can do and get our top players out there to be seen," Ritch said. "We get them what they need from an exposure standpoint. But also you really see what that next level is like for them so they can develop and really press towards what they're going to be."
E64's season will consist of a 14-game regular season and will include two showcase events as well as an end-of-the-season playoff, providing Rush Select players with more exposure and opportunities for development.
This unique structure also enables Rush Select some flexibility for the staff as well as for the players and their families.
"What USYS has allowed us to do is kind of create bigger pools than your normal team would be," Ritch said. "So what it allows for is a club—say Mississippi Rush—that may have a tournament on the singular weekend when there's an Elite 64 competition and their players may not be widely available, while maybe Coastal or Cajun Rush would be free and allows us to pull those players from those clubs to really fill out that roster.
"Obviously, you want as much continuity as you can, but it will also give us the flexibility to manage the travel aspect for parents and players as well as the financial piece there for them as well so everyone doesn't have to commit to every single thing that's happening.
"We can really see how our teams do when they're in that merged environment, competing for a trophy over the course of the year versus showing up for regional events where they play the other regions."
The Rush Select events will remain in place as the E64 will simply provide an additional playing experience. Heading into the inaugural 2022 fall season, two Rush clubs—Lobos Rush in west Tennessee and Idaho Rush in Boise—will compete in the league along with two Rush Select teams, Select Desert and Select South.
"The beautiful thing here is, if you're in a Rush Club, you have access to this," Ritch said. "We can pull players in from all over the country within that network and utilize that big player pool. So, keep an eye out, keep an ear out for what we're doing and how it's kind of evolving and over the next couple months we'll be able to share a bit more."