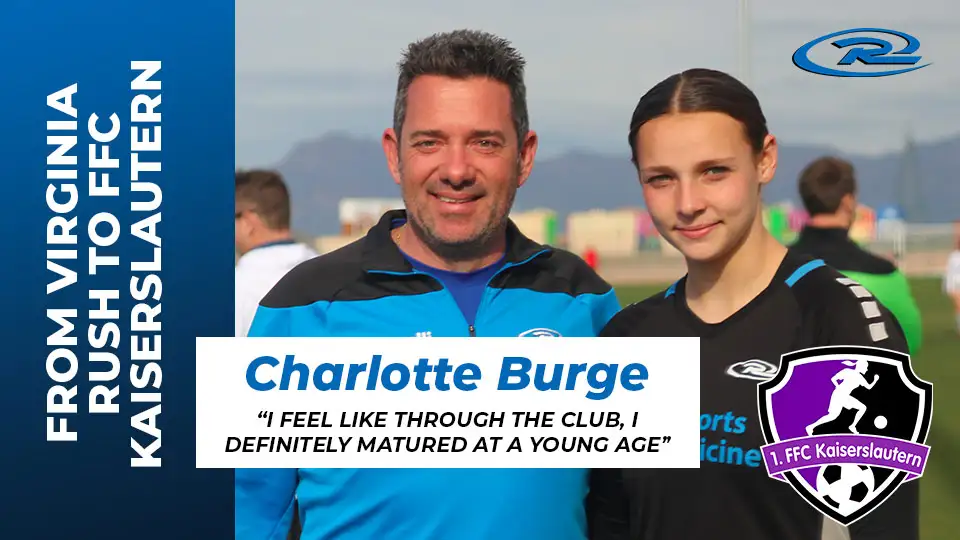 Blazing Her Own Path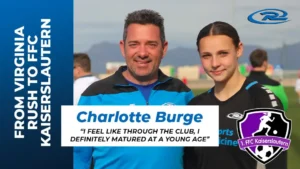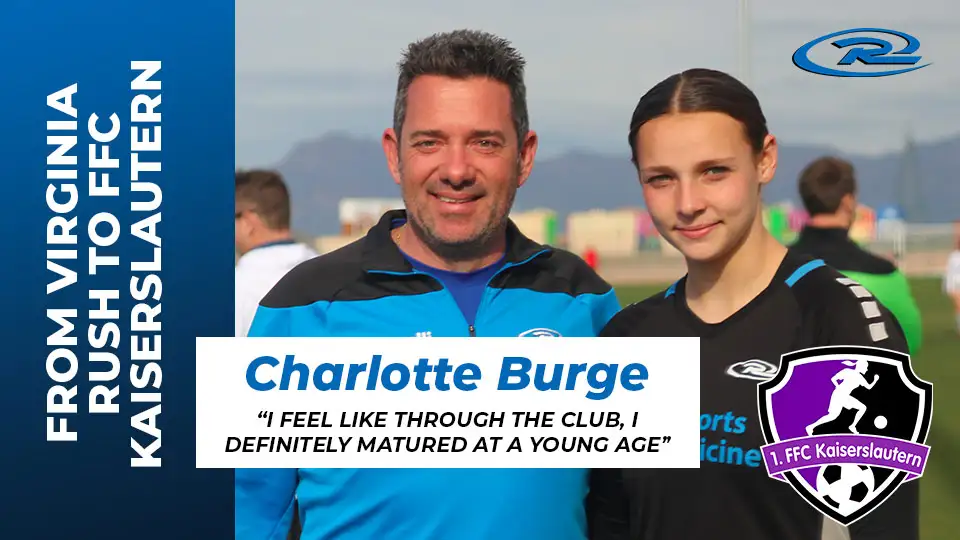 For the vast majority of competitive club soccer players, landing a college scholarship is their top goal for their playing career. And for a handful that aspire to more, there's a potential to play professionally.
And then there are players like Charlotte Burge, a 2006 goalkeeper from the Virginia Rush club who is choosing a different path.
"I've always had the mindset that I'm going to bypass the college path, the American dream," Burge said. "That's just not what I wanted. So, I just asked for help from the club, my goalkeeper coach at my home club Mike Kappas, and Matt Mittelstaedt, the Rush National Technical Director, to see what they could do for me."
Those conversations led them to have a discussion with Raoul Voss, Rush's Global Sporting Director, who opened up a pathway for Burge to connect with German club FFC Kaiserslautern.
And as Burge has broadened her horizons by playing abroad, she's also broadening her soccer knowledge by training and playing for a European club that already has some glaring differences from what she's accustomed to.
"Back home in the States, you get comfortable playing in small spaces and it's important to learn to play that way," Burge said. "But here in Germany, they use the entire field to train. So, I'm getting used to having a lot of space to play in, even though they might not be as good in small spaces. They're able to hit a ball from this space here to a space across the field. It's just opened the game up for me."
However, Burge has found herself scrambling to figure out an off-the-field issue that has consequences for her on the field—the German language. Burge, who's enrolled in an online education program that she tackles every morning, is also practicing hard on her German.
"I'm very vocal," Burge said. "I speak my mind on the field and off it. I definitely take a leadership role when I'm on the field—but it's kind of harder here."
Because of the German—and the expectations on the goalkeeper as a vocal team leader, which isn't quite the same.
"They don't prioritize communication out of the back as much here," Burge said. "So I'm speaking more than the goalkeeper that's here already. And so I'm asking my center back, 'Hey, how do I tell you to move up the field?' or 'How do I tell you to pass me the ball?' There are simple phrases that I can speak in English, but I don't know what to say in German. So, it makes my job harder and it just makes me think more, which is awesome honestly."
But as astute as Burge is about what's happening on the pitch, the 5-foot-9 goalkeeper has already made some keen observations about German culture as it relates to the country's collective passion for the sport after attending some Kaiserslautern men's matches.
"The German atmosphere—it's something else," Burge said. "I think Germans don't have as much pride for their country because of their past, but Germans have so much pride for their clubs. They just love their club teams.
"So, when I went to the games, I was just in shock, seeing everyone being able to love the same thing and support such a phenomenal group of players—you don't really have that in the United States at a professional level. Yes, you have people who are fans of an NFL team, but nothing compares to the big wall behind the goal of the fans who are crazy."
Now, it's Burge who's dreaming of having that big wall of supporters behind her, cheering her on. And she feels like due to the opportunities she's had through Rush that she's prepared to pursue her not-so-American dream.
"I feel like through the club, I definitely matured at a young age," Burge said. "I was always playing with girls who were older than me. So when I was 12, I went over to France to play with the 18-year-olds. Rush definitely gave me the opportunities to travel and become a young adult at an early age, and now being 16 and moving away from home, I feel like I'm definitely prepared for all of this."