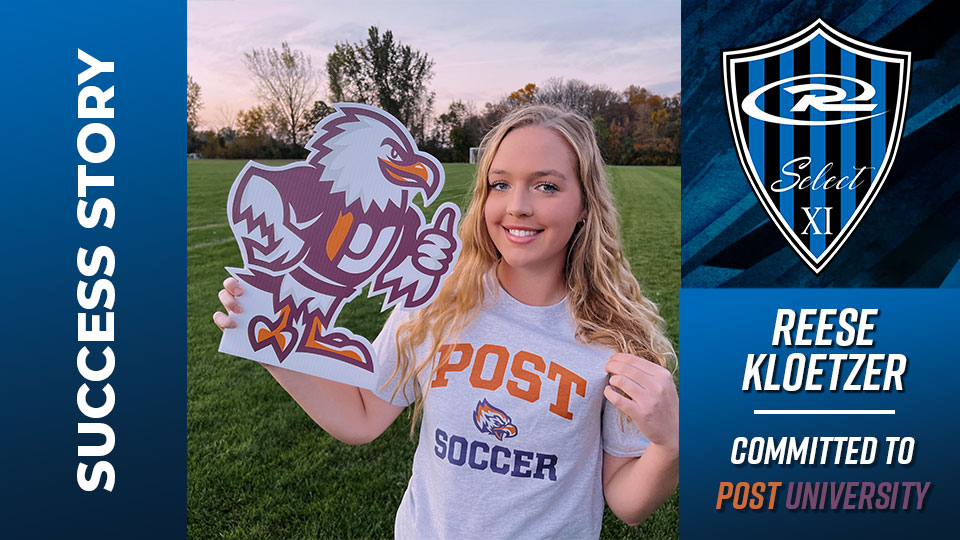 An Interview With Reese Kloetzer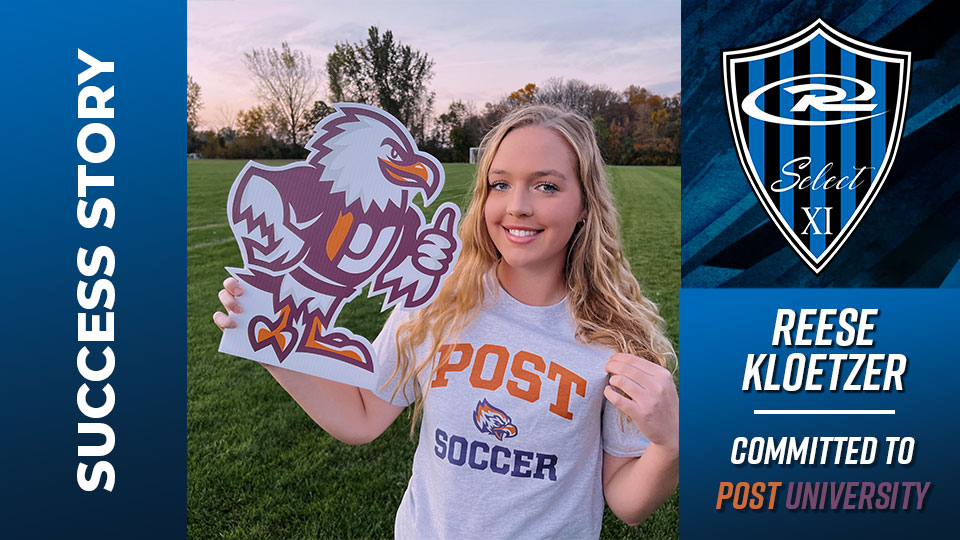 Over the summer Rush Select held 3 regional cup and showcase events. These were tryouts for the Rush Select program as well as opportunities for players to showcase themselves in front of attending college coaches. Reese Kloetzer, a Senior from Twin Cities Rush, in the Midwest region, was able to do just that. She was interested in a couple of Northeast Region colleges so she decided to attend the Northeast Rush Cup and Showcase. Since she took this out-of-region opportunity she was able to be seen by Post University and committed to the school because of that weekend. The Rush Select program is committed to giving its players the best opportunities to showcase themselves in front of professional and college coaches. The full interview from Reese is below.
Name? Reese Kloetzer
Local Rush Club? Twin Cities Rush
How long have you been a Rush Player?
We entered into the Rush Environment in 2021, so this will be my second year as a Rush player. Before joining the Rush Program, we were Blaine Soccer Club, of which I played for an additional 3 years.
How do you feel the Northeast Cup and Showcase went for you? 
I felt that the Northeast Cup Showcase went extremely well for me. I was grateful for the opportunity within Rush to have coaches correspond, and coordinate my ability to play that weekend as college coaches from the East Coast were there to see us play. I gained a lot of confidence coming out of that showcase and walked away with a few college contacts and many lifelong fast friends. Bonus: I'll now get to see them play, or I'll be playing against them! 
What made that weekend so special?
This is a hard one to just name one. Looking back, it was the jump start to being recruited to Post University. The coaches and players for the VA Rush and other clubs have high respect for Post, and I was excited that they saw me play in all 3 games. This wouldn't have been made possible without the VA Rush team allowing me to seamlessly join them. To have a "new kid" join a team, play for only a weekend, and treat me as "one of them" was incredibly humbling to experience. I not only walked away with more experience but more teammates that are now my friends I chat with weekly, if not daily. I teared up a little when I sent my text to the head coach letting him know that I committed to Post University, to have several players send me screenshots of the sweet, sincere, and funny (I can't help this Minnesota accent) of congratulations. That meant the world to me!
What did you learn from other players at the event?
The other Rush players, coaches, and teams were so supportive on and off the field. They were very respectful and had great sportsmanship. 
What advice would you give to a younger Rush player? 
Cherish the time you have with your teammates and coaches, time flies by fast. Don't take any day for granted. Keep reaching for your goals, and train every practice like it's your last time on the field. Stick with it and don't let anyone doubt you. Use that doubt to work even harder tomorrow, to prove them wrong. Go to all of the showcases and guest play with as many teams as you can by reaching out to your coach, or your Club's CAP representative. You will gain many new professional and personal friends, as well as learn so much about other styles of play and players worldwide!! 
What does it mean to you to sign for Post University?
It means a lot to me to sign to Post. I have worked so hard to get to where I am today. I'm told I "grind" the hardest and "most passionate" by most people who know me or have played against me. I travel 120 miles round trip 3-4 times a week to practice, and that doesn't include games and tournaments. I set goals for myself, and with the help of my family, friends, coaches, and teammates; The dream to play on the East Coast at the next level has been made possible.
Any other comments in regards to the select program? 
The Rush Select program is one of my favorite parts of Rush. I have gotten so much exposure with Rush Select and I am extremely grateful for that. Learning quickly how to fit into the team's formation and the skill of play. Soccer IQ is put to the test, but trust your coach and the players that all have the same goal; to win. That's what's so beautiful about the game of soccer, even though we are "strangers," as soon as we hit the pitch, we all know our parts to play to be successful as a team. I have made so many lifelong friends and gotten to know many of the Rush coaches around the country. It's a very, very cool program to be a part of. I really love being able to be exposed to different styles of coaching, pushing my skills to the limit, as well as, getting the same opportunities as others in the Rush program. A great example of this is that my home club team is playing NPL, however, I'm playing with ECNL, GA, and international teams. I will definitely miss playing for Rush next year, but I will never forget the memories I have made!